April 23rd 2021 in News
Eric Foner, Henrietta Harrison, Sunil Khilnani, and Jennifer L. Morgan join Michael Ignatieff to judge 2021 Cundill History Prize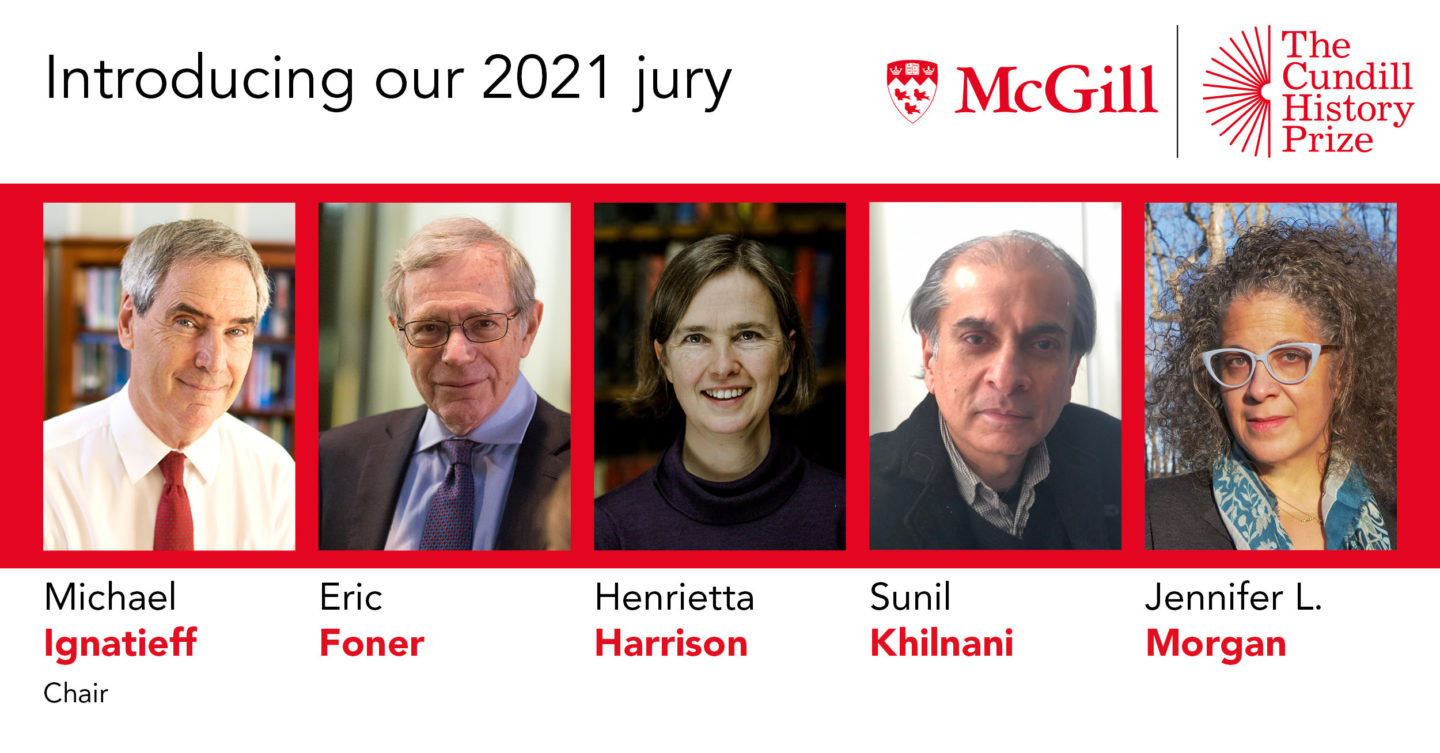 From race relations to gender politics, from China to the US, from India to the Black Atlantic world – the Cundill History Prize today announces the jury of eminent historians judging the leading international history prize in 2021.
The historian, author, university professor and former Leader of the Liberal Party of Canada Michael Ignatieff, Chair of the Jury, will be joined by:
The jurors will shortly be sent pre-loaded e-readers to facilitate the reading period over the summer months, before meeting in a series of video conference calls to deliberate on the longlist, the shortlist of eight, the three finalists and, ultimately, the one winner of the US$75,000 prize, administered by McGill University.
Eric Foner said: "I see membership on this jury as an unmatched opportunity to draw the attention of both scholars and the larger public to the outstanding works of history produced in the past year. I look forward to educating myself by reading outstanding works covering aspects of history with which I am not familiar, as well as encountering the latest developments in my own areas of expertise. I will be looking for books that contain original historical insights and that are written in a literary style accessible to readers outside the academy, for today, more than ever, an understanding of history is essential to democratic citizenship."
Henrietta Harrison said: "I'm excited to be a juror for the Cundill History Prize because I love reading history books and hope to be inspired by the new ways of writing that I find this summer. To my mind the best history books come from deep immersion in a wide range of original sources over many years, make the past come alive, and also teach us something new about it. We need to learn that the past is more complicated than we often imagine and good history writing not only tells us that but also makes us experience it."
Sunil Khilnani said: "It's an exciting time for history writing that speaks to a broad audience and brings unexpected perspectives to our present exigencies, and I'm looking forward to a summer of hard reading and rich conversation about the finest new work in the field."
Jennifer L. Morgan said: "Serving on the Cundill History Prize jury is an honor. As we grapple with the aftermath of a year of profound unrest and upheaval, it feels particularly crucial to think deeply and critically about what has brought us here. I will look for books that convey both the urgency of engaging with the past and the power of beautiful prose in helping us to do so."
Publishers have until next week Friday, April 30 to submit their best works of history to the prize.
The Cundill History Prize is open to authors from anywhere in the world – regardless of nationality or place of residence – as well as translations into English. As of 2020, the prize has transitioned to a fully digital submissions process. For further information, including eligibility and submission details, and to submit, please visit: www.cundillprize.com/submit.
Upon being appointed Chair, Michael Ignatieff said: "It's a wonderful opportunity to chair this year's Cundill History Prize and go in search of great history writing that tells a compelling story, is grounded in world-class research and changes our understanding of the contemporary world."
Jason Opal, Chair of the Department of History and Classical Studies at McGill, said: "We're thrilled to have such a collection of stars for this year's jury. Each member is eminent and accomplished, and their expertise ranges from the Americas and Europe to India and Asia. Their approaches are diverse and complementary, enabling a wide and deep reading of the excellent books they will consider for the prize. Above all, they'll be able to find the works of history that matter most urgently – the books that enable us to better see and understand the ongoing past."
US$75,000 are awarded to the winner, making the Cundill History Prize the biggest purse for a work of non-fiction in English, with US$10,000 awarded to each of the two runners-up.
Following last year's fully digital programme, delivered to an ever-growing, worldwide audience through a network of partners including CBC Ideas, Literary Hub, History Hit, History Extra and Literary Review of Canada, the prize forges ahead in 2021 with an exciting lineup of events in store.
The shortlist will be announced in September, followed by the finalists announcement in October. The winner will be named in early December 2021 as part of the second annual Cundill History Prize Festival — set to also include the Cundill Lecture and Cundill Forum, alongside new features. The full season calendar will be unveiled later this year.
Last year, the jury chaired by Peter Frankopan awarded Rutgers Distinguished Professor of History and scholar of Nahuatl Camilla Townsend for her Fifth Sun: a New History of the Aztecs, a revolutionary retelling of early Mexican history through the indigenous people's own words.
The other two finalists were Vincent Brown, Professor of American History and African and African American Studies at Harvard University, for Tacky's Revolt: the Story of an Atlantic Slave War; and the award-winning, best-selling British historian William Dalrymple, for The Anarchy: the Relentless Rise of the East India Company.
The 2021 winner will join an alumni list of world-leading historians: Camilla Townsend (2020), Julia Lovell (2019), Maya Jasanoff (2018), Daniel Beer (2017), Thomas W. Laqueur (2016), Susan Pedersen (2015), Gary Bass (2014), Anne Applebaum (2013), Stephen Platt (2012), Sergio Luzzatto (2011), Diarmaid MacCulloch (2010), Lisa Jardine (2009), Stuart B. Schwartz (2008).
For all media enquiries please contact Daniel Kramb (danielk@fmcm.co.uk) and Kealey Rigden (kealeyr@fmcm.co.uk) at FMcM Associates.