September 23rd 2021 in News
Topics that "continue to define the present" make 2021 Cundill History Prize shortlist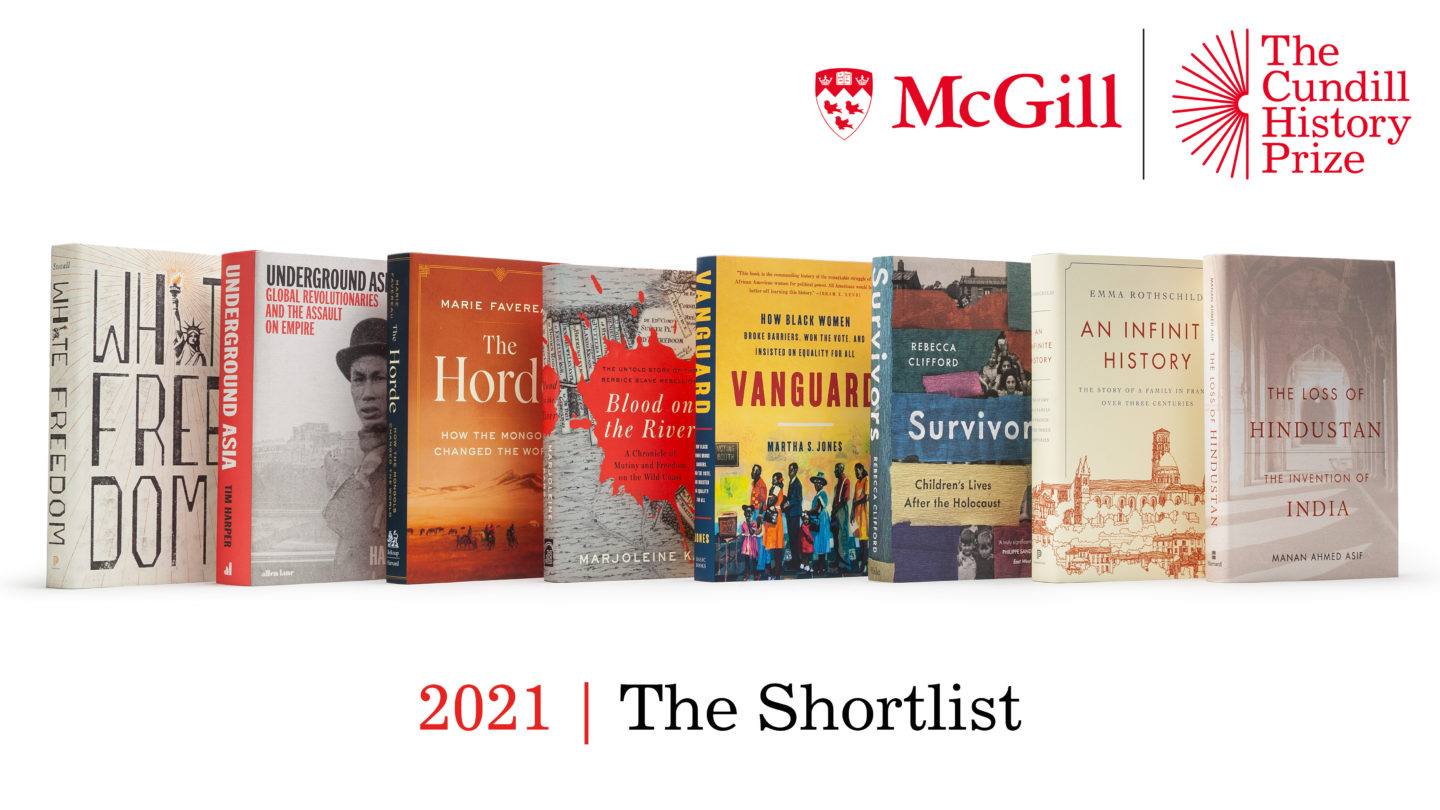 The jurors for the 2021 Cundill History Prize are shining a light on race, class, empire, revolution and memory with an eight-book shortlist that shows the range and insight of current history writing. The list was announced by Michael Ignatieff, Chair of the Jury, together with jurors Eric Foner, Henrietta Harrison, Sunil Khilnani and Jennifer L. Morgan in a virtual event, broadcast in partnership with Literary Hub today.
Two university presses – Harvard University Press and Princeton University Press – feature with two titles each, alongside books from Allen Lane, Basic Books, The New Press and Yale University Press.
Working with a network of partners in Canada, the US and the UK, the world's leading history prize, administered by McGill University, is rolling out another fully digital programme this year. For today's event, the jurors were joined by 2020 winner Camilla Townsend, who told the audience of a spike in interest in the indigenous sources she uses in Fifth Sun, her winning work: "That is exactly the effect that I would have wanted the book to have and I think it has happened largely because of the Cundill History Prize."
Michael Ignatieff said: "The historians whose books made our 2021 shortlist are all fine writers, with a compelling story to tell, backed up by years of careful research. They all use historical scholarship to address subjects – race, class, empire, revolution, and memory – that continue to define the present. Choosing these eight books from a field of 360 wasn't easy because there is so much exciting history being written these days. We hope we've chosen books that readers will enjoy reading as much as we did."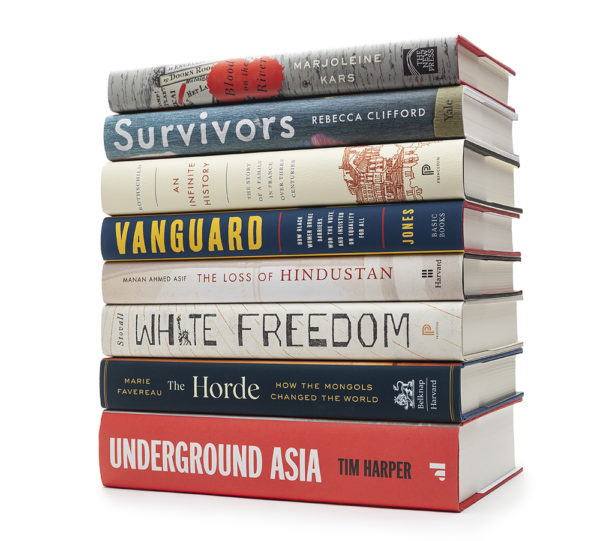 Manan Ahmed Asif reveals how a multicultural Hindustan, a home to all faiths, gave way to the religiously partitioned world of today (The Loss of Hindustan); Martha Jones recentres the lives and work of Black women in the fight to secure the equality and dignity of all (Vanguard); Marie Favereau shows how the western portion of the Mongol empire was no less a force in global development than Rome had been (The Horde); and Rebecca Clifford follows the lives of one hundred Jewish children out of the ruins of conflict and into old age (Survivors).

Tim Harper follows young radicals from across Asia who were able to fundamentally undermine empires (Underground Asia); Marjoleine Kars goes in search of a little-known revolution, in the Dutch colony of Berbice, that almost changed the face of the Americas (Blood on the River); Emma Rothschild, by tracing one family's extended family over five generations, paints a panoramic look of the French past (An Infinite History); and Tyler Stovall challenges the notion that racism is somehow a paradox or contradiction within the democratic tradition (White Freedom).
Juror Eric Foner said: "These eight books exemplify the range, insight, and accessibility of the finest works of history being produced today. Their subjects cover many centuries and places across the globe. They rely on the imaginative use of historical evidence of all kinds, from a vast array of historical actors. They are revisionist in the best sense – they challenge prevailing ideas and propose new ways of looking at familiar subjects. And they are written in a style accessible to the general public. The Cundill History Prize reassures us of the health and vitality of the historical profession today."

Juror Henrietta Harrison said: "This is a wonderful set of books. All of them beautifully researched and written, and on topics that range through time from the medieval Mongols to modern America, and across the world from France to Guyana."
Juror Jennifer L. Morgan said: "The eight works on the Cundill History Prize shortlist represent the best historical scholarship. They bring an exciting range of analytical precision to topics that range widely over time and space – teaching us so much about the possibilities of archival scholarship for the contemporary moment. They are all beautifully written, the kind of book you find hard to put down once you've picked it up, and leave the reader with a renewed clarity about the importance of History as both a discipline and as an art."
Juror Sunil Khilnani said: "Each of the books on our shortlist – selected from an extraordinarily rich field – makes the historical past come to life in startling and gripping ways. Spanning time, geography, and scale of analysis, these books bring to bear sophisticated methods and deep scholarship, expressed in clear and graceful form. They manifest the value of historical perspective, especially in our uncertain times."
Mary Hunter, Dean of the Faculty of Arts at McGill University, said: "This Cundill History Prize shortlist exemplifies the best in history writing today. Timely, engaging and beautifully written, the eight books chosen by our distinguished jury are extensively researched and provide fresh historical insights that encourage us to rethink not only our past but also our present."
Awarding US$75,000 to the winner and US$10,000 to the two runners-up, the Cundill History Prize is the largest purse for a book of non-fiction in English. It is open to books from anywhere in the world, regardless of the author's nationality, as well as works translated into English.
The 2021 finalists will be announced on 20 October; the winner as part of the Cundill History Prize Festival on 2 December. For the latest news on these, and the wider events programme, sign up to the newsletter and follow the Cundill History Prize on Twitter, Facebook and Instagram.

The 2021 winner will join an exceptional alumni list of world-class historians: Camilla Townsend (2020), Julia Lovell (2019), Maya Jasanoff (2018), Daniel Beer (2017), Thomas W. Laqueur (2016), Susan Pedersen (2015), Gary Bass (2014), Anne Applebaum (2013), Stephen Platt (2012), Sergio Luzzatto (2011), Diarmaid MacCulloch (2010), Lisa Jardine (2009), Stuart B. Schwartz (2008).
For all media enquiries, please contact Daniel Kramb (danielk@fmcm.co.uk) and Kealey Rigden (kealeyr@fmcm.co.uk).
---
The 2021 Cundill History Prize Shortlist

Manan Ahmed Asif
The Loss of Hindustan: the Invention of India
Harvard University Press
Rebecca Clifford
Survivors: Children's Lives after the Holocaust
Yale University Press
Marie Favereau
The Horde: How the Mongols Changed the World
Belknap Press of Harvard University Press
Tim Harper
Underground Asia: Global Revolutionaries and the Assault on Empire
Penguin Press, Penguin Random House

Martha Jones
Vanguard: How Black Women Broke Barriers, Won the Vote, and Insisted on Equality for All
Hachette Book Group
Marjoleine Kars
Blood on the River: a Chronicle of Mutiny and Freedom on the Wild Coast
The New Press
Emma Rothschild
An Infinite History: the Story of a Family in France over Three Centuries
Princeton University Press
Tyler Stovall
White Freedom: the Racial History of an Idea
Princeton University Press