December 2nd 2022 in News
Tiya Miles wins 2022 Cundill History Prize for 'exceptional' All That She Carried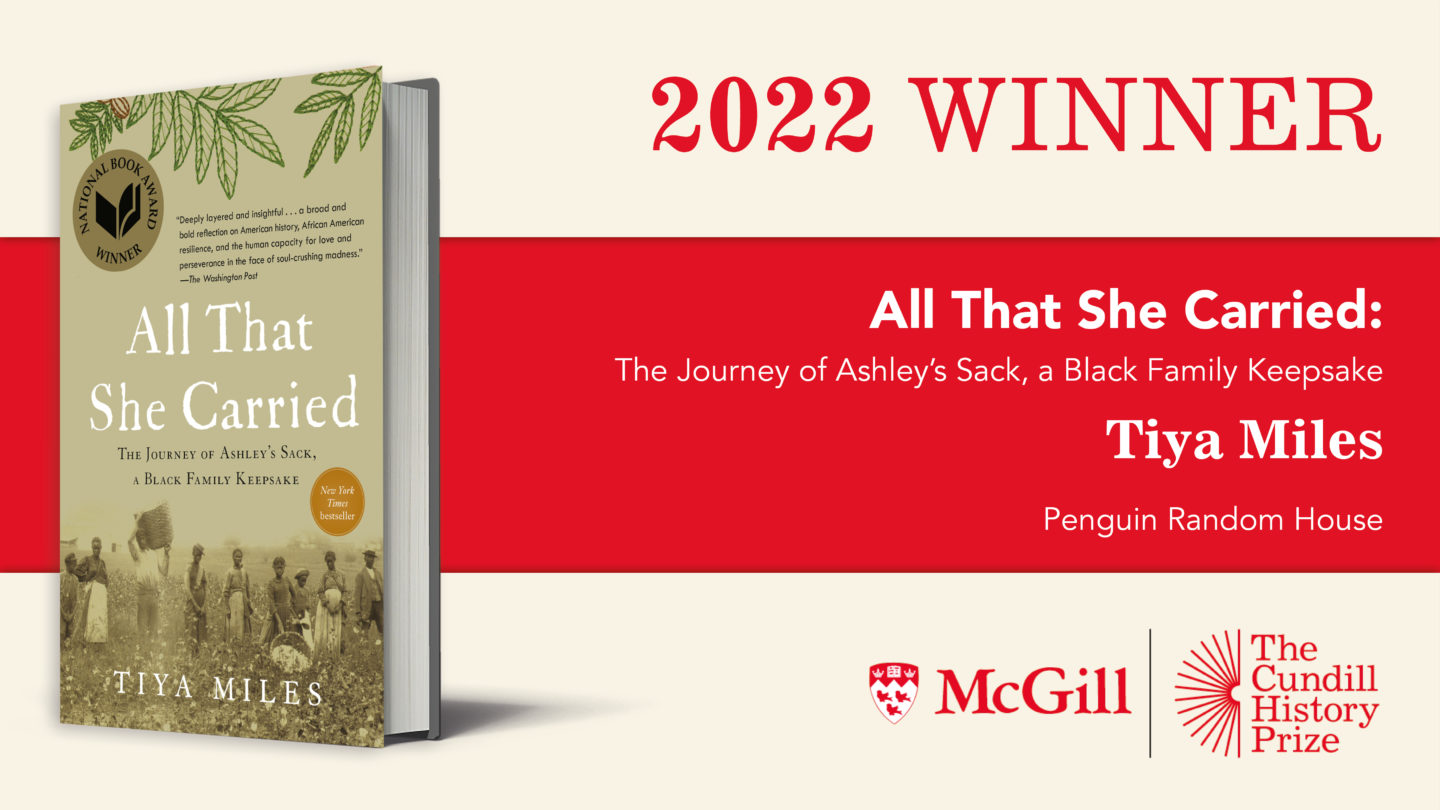 Tiya Miles has been announced the winner of the 2022 Cundill History Prize for All That She Carried: The Journey of Ashley's Sack, a Black Family Keepsake (Random House). In a unanimous decision, the 2022 jurors decided to award the Harvard Professor for her 'superbly written' story of an enslaved mother and her daughter, which traces the lives of three generations of Black women through one object: a cotton sack. Facing a scarcity of archival sources on these women's lives, Miles turns to material culture, art, and the environment to piece together a singular history of slavery that has 'the narrative propulsion of a novel.'
The Massachusetts-based historian – Radcliffe Alumnae Professor at the Harvard-Radcliffe Institute, and director of the Charles Warren Center for Studies in American History at Harvard University – was awarded the US$75,000 prize, administered by McGill University, in a return to an in-person gala at The Windsor Ballrooms in Montreal.
The ceremony was presented by CBC Ideas presenter Nahlah Ayed, in the company of the 2022 finalists, jury members, and chair J.R. McNeill.
Today's event was a much-celebrated return to an in-person gala, following two years of digital winner ceremonies. Highlights from the event at the Windsor Ballroom, and the other Cundill History Prize Festival events, will be streamed as a 2022 Highlights Film in mid-December.
J.R. McNeill said: 'Tiya Miles' All That She Carried is the winner, in a field of superb books, because of its clear and moving prose, its imaginative research, and the way the author illuminates the human condition through a family story. The world of enslaved women in the antebellum South is, by the standards of U.S. history, extremely poorly documented, but Miles has risen to that challenge in ways that show the best of the historian's craft. For me, the vividness and immediacy of the writing is the strongest suit of this powerful book.'
Miles has also been awarded the Nonfiction National Book Award and The American Historical Association's Joan Kelly Memorial Prize, awarded annually for a work of women's history or feminist theory.
The two fellow finalists – Julius Silver Professor of History and Latin American and Caribbean Studies at New York University, Ada Ferrer (Cuba) and Professor of international history at the London School of Economics and Political Science, Vladislav M. Zubok (Collapse) – each received US$10,000.
The Cundill History Prize is the largest purse for a book of non-fiction in English. The prize is awarded to a work of outstanding history writing and is open to books from anywhere in the world, regardless of the author's nationality, as well as works translated into English.
Registrations are open here. Book photography, author headshots, juror headshots and further assets for the winner are available for download here.

Juror Misha Glenny said: 'Any of these three books would have been worthy winners of the Cundill History Prize. But All That She Carried demonstrated one quite unique quality. This is a microhistory in which the author has overcome an apparent paucity of sources by piecing together every available nugget of information into a rich, superbly-written volume that illuminates a much larger history than its main characters. It pulls the reader along into a world that until now was almost entirely undiscovered and is ultimately a thoroughly deserving winner.'
Juror Martha S. Jones said: ' Tiya Miles' All That She Carried is a history that reminds us about what makes us human. The book brings determined research and eloquent compassion to the story of an enslaved mother and her daughter just as they are doomed to be separated, and then discovers how one mother's love survived across time and space in the form of a simple cotton sack. We learn how the past still shapes our present and how we might use its hard won lessons to face the hardship of our own times. Miles deploys dogged research and elegant prose to reveal how the survivors of slavery's crime against humanity left a legacy that undergirds our present-day strivings for justice. As jurors we had the welcome opportunity to read All That She Carried over and again; it is a book I will share with the people in my life as a model of historical scholarship and a beacon for finding our way.'
Juror Yasmin Khan said: ' This book stood out as an exceptional piece of writing. Tiya Miles uses interdisciplinary and innovative methods to tell a moving story; it has all the narrative propulsion of a novel, while staying fully grounded in factual evidence and deep historiographical understanding. This book brings to life the pain inflicted on enslaved women in the American South yet it is also ultimately a book filled with hopefulness. It is a book of importance for understanding America today, and for thinking about how societies can reckon with the violence of the past.'
Juror Kenda Mutongi said: 'Simply praising All that She Carried for its textured examination of heartfelt love between a mother, daughter, and enslaved family members is to underrate its value. Tiya Miles provides an innovative and visionary way to reconstruct family history using meager sources. Her book is at once a literary and academic achievement, and it will be read widely for years to come.'
Tiya Miles joins an exceptional alumni list of world-class historians: Marjoleine Kars (2021), Camilla Townsend (2020), Julia Lovell (2019), Maya Jasanoff (2018), Daniel Beer (2017), Thomas W. Laqueur (2016), Susan Pedersen (2015), Gary Bass (2014), Anne Applebaum (2013), Stephen Platt (2012), Sergio Luzzatto (2011), Diarmaid MacCulloch (2010), Lisa Jardine (2009), Stuart B. Schwartz (2008).
2021 Cundill History Prize winner Marjoleine Kars kicked off the Cundill History Prize Festival on Wednesday (November 30), delivering the 2022 Cundill Lecture: "A Great Slave Revolt Up Close: Guyana, 1763." The event, in partnership with History Extra, took place at McGill University, and is available on-demand via History Extra from Monday, December 5 to Sunday, December 11.
The following day, ahead of the winner ceremony, the Cundill Forum, in partnership with History Hit, saw a conversation between finalists Ada Ferrer, Tiya Miles and Vladislav M. Zubok. It was live- streamed from Montreal to the Cundill History Prize YouTube channel, and is available for catch-up.