October 17th 2019 in News
Cundill History Prize finalists reckon with Nazi legacies, the dreams and tragedies of American history, and the force of Maoism
Massey College, Toronto – The UCL Professor of German History Mary Fulbrook, the Harvard Professor and New Yorker staff writer Jill Lepore, and Julia Lovell, Professor of Modern China at Birkbeck College, University of London, are the three finalists for the leading international prize for history writing, the US$75,000 Cundill History Prize, administered by McGill University.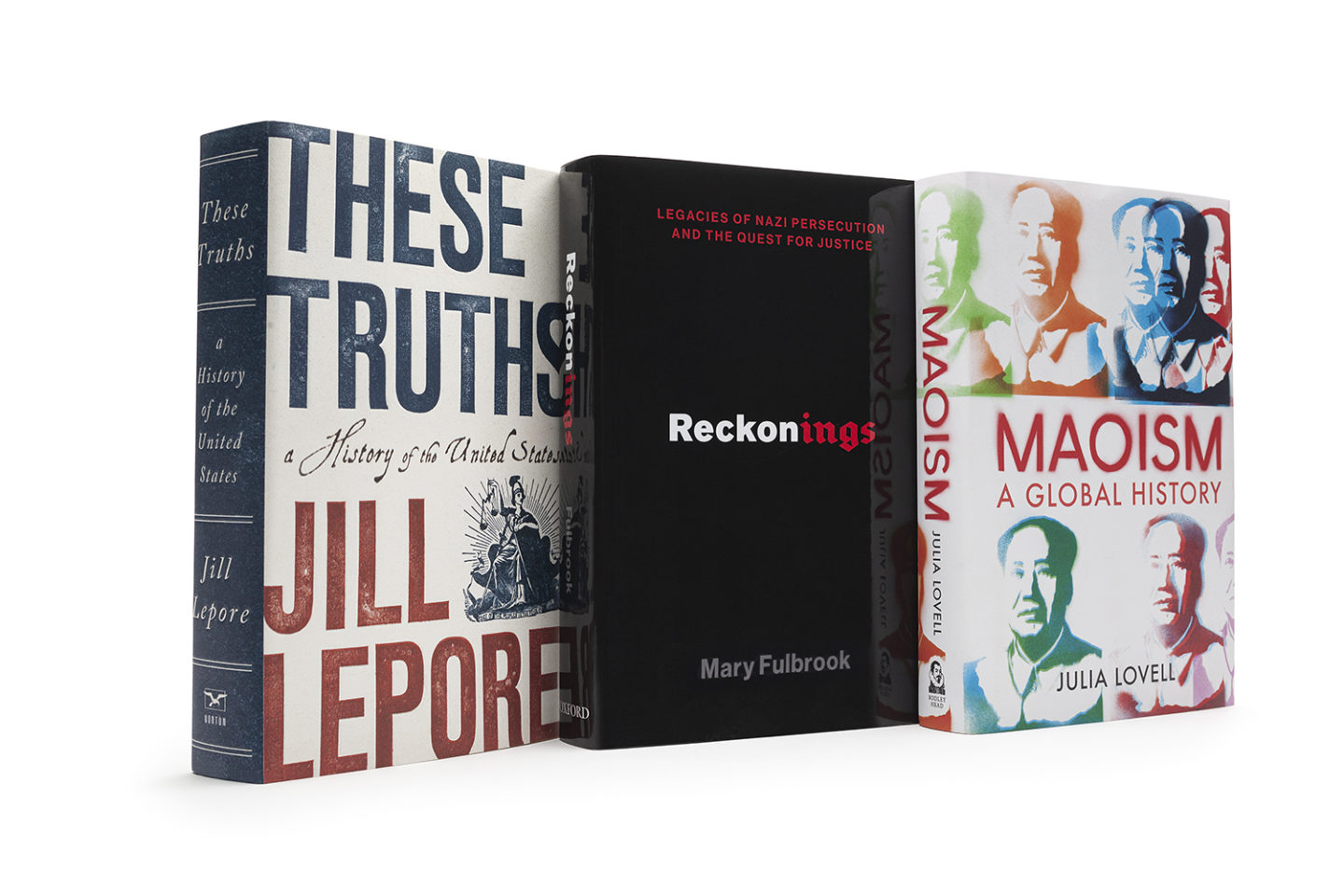 Mary Fulbrook
Reckonings: Legacies of Nazi Persecution and the Quest for Justice
Oxford University Press (UK, US)
Jill Lepore
These Truths: A History of the United States
W. W. Norton & Company (US)
Julia Lovell
Maoism: A Global History
The Bodley Head (UK), Knopf (US)
Mary Fulbrook's Reckonings: Legacies of Nazi Persecution and the Quest for Justice reckons with the lingering aftermath of the Holocaust; Jill Lepore's These Truths: A History of the United States with the origins and rise of a divided nation, from 1492 to the present; and Julia Lovell's Maoism: A Global History with Mao's impact on China, and the world. The three historians will be awarded US$10,000 each, and are now vying for the grand prize, which raises the reward for the winner to US$75,000, making the Cundill History Prize the largest prize for a work of non-fiction in English.
Alan Taylor, Chair of the Jury, made the announcement at an exclusive event at Massey College in Toronto tonight: "The finalists for the Cundill History Prize have written three exceptional works of history. Fulbrook's Reckonings, Lepore's These Truths, and Lovell's Maoism are deeply researched and rich in insights. They take on difficult and ambitious topics with an impressive commitment to moral inquiry and humane values. Their literary quality will enable the authors to introduce new findings to a very broad readership."
Antonia Maioni, Dean of the Faculty of Arts at McGill University, said: "Written by three outstanding women, these are sweeping histories of major historical significance, addressing political movements which radically shaped our past and are resurgent at a time of contemporary political upheaval. The three finalists are essential reading for everyone if we are to take lessons from the past which can help shape a stable, positive future. The Cundill History Prize honours each of these books and in doing so fulfils the vision of our founder Peter F. Cundill in bringing great works of historical research to a global general readership."
Chaired by the twice Pulitzer Prize-winning historian Alan Taylor, the 2019 Cundill History Prize is being judged by an eminent panel of world-class historians, comprising the award-winning Harvard Professor Jane Kamensky; the German-born Professor of Modern History at University College Dublin Robert Gerwarth; Charlotte Gray, the best-selling Canadian author and Adjunct Research Professor at Carleton University; and Director of Oxford University's China Centre Rana Mitter.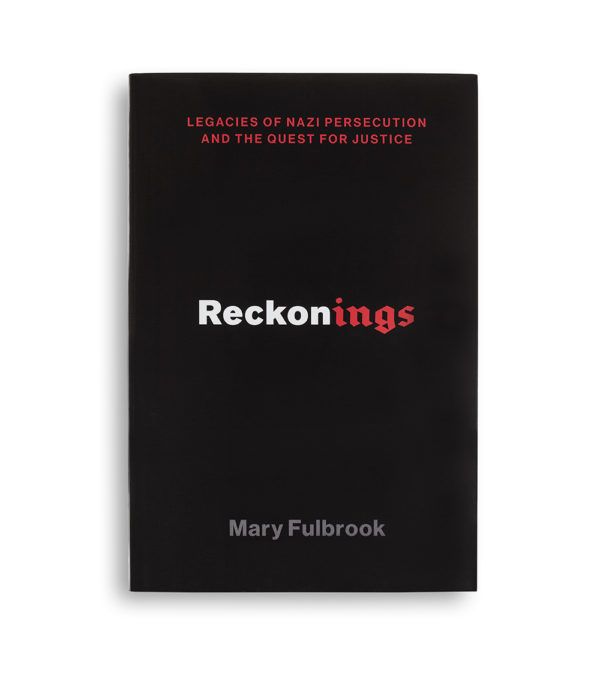 In Reckonings: Legacies of Nazi Persecution and the Quest of Justice (Oxford University Press), the Professor of German History at UCL Mary Fulbrook explores the lives of both the victims and the perpetrators of the Holocaust. A lifetime achievement by one of the most renowned experts in the field, this encompassing work – which won the UK's Wolfson History Prize earlier this year – expands our understanding of the Holocaust, and its lingering aftermath.

Rana Mitter said: "Reckonings made me deeply uncomfortable – and I mean that as a recommendation. It told me a story about my continent, Europe, which I hadn't fully absorbed: that the liberal democratic elements, which seem so prominent, are actually underpinned by the still unresolved legacy of the Nazi period in Germany."
Robert Gerwarth said: "There are surprisingly few books that weave together the history of the Holocaust itself and its aftermath. Reckonings is quite unique in offering this perspective, bringing together different strands of investigation and various micro-studies. This is an extremely important and interesting book, even for people who know a lot about the Holocaust and are familiar with the vast literature that exists. Mary Fulbrook manages to say something new about the subject."
Jane Kamensky said: "What recommends Reckonings as a finalist is the combination of its analytical and archival mastery and its clarity. This is a book that speaks to specialists in its many subfields, but also invites lay readers into an enormously tangled place and time."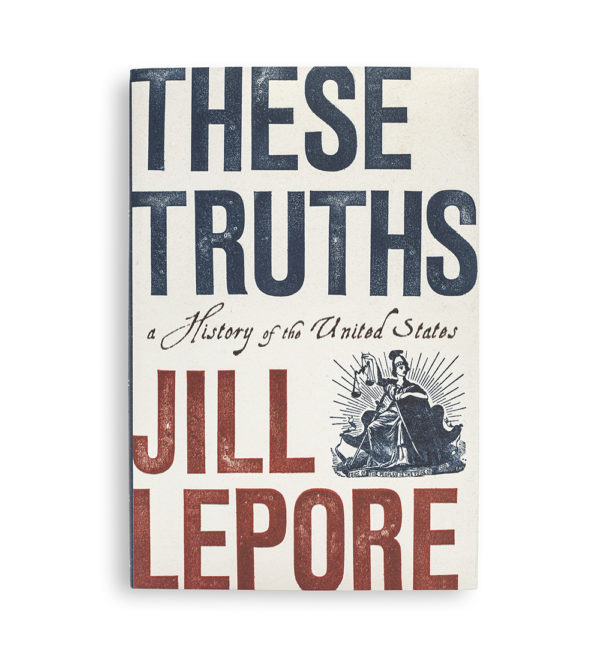 With These Truths: A History of the United States (W. W. Norton & Company), the Harvard Professor and New Yorker staff writer Jill Lepore delivers an ambitious one-volume history of the United States which places truth itself – a devotion to facts, proof, and evidence – at the centre of the nation's history. Taking the reader up to the election of Donald Trump, this magisterial account is a reckoning with the beauty and tragedy of American history.
Charlotte Gray said: "I was dazzled by These Truths. It's ambitious, it's sweeping, and it comes at American history, from Columbus to Trump, from completely new, original angles. I learned not just about the larger figures, which we are familiar with, but also those who have been nameless up until now: escaped slaves, IT specialists, and those who have been hurt by the fact that, all too often, the founding fathers' truths have been completely distorted in practice."
Alan Taylor said: "These Truths is a book that is extremely ambitious in its writing. Jill Lepore weaves in many characters – some familiar, others novel – to show the rich way in which Americans from very diverse backgrounds have contributed to the development of democracy, and to the challenges democracy continues to face today."
Rana Mitter said: "These Truths does something I thought was almost impossible to do: to take a very well-known story, the history of the United States of America, and make something new from it. It's worth noting that the note of hope that sits there, at the end of the book, is justified by an understanding that everything in history does change, even the United States."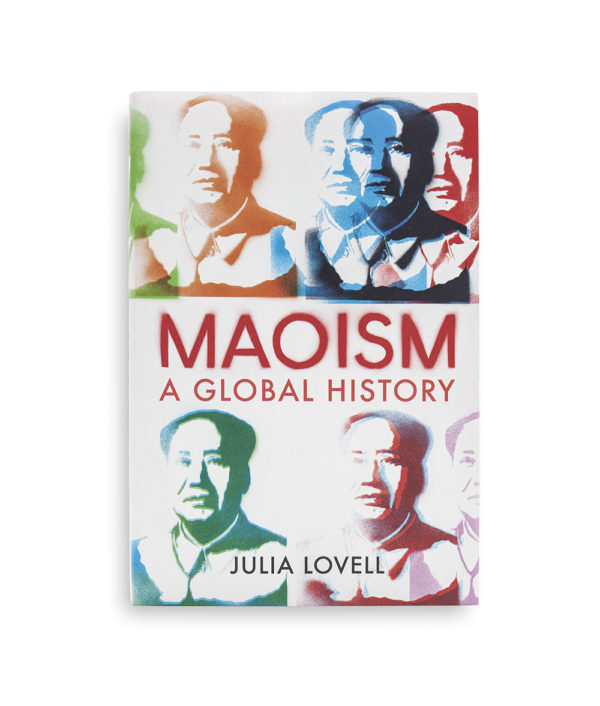 From the tea plantations of north India to the sierras of the Andes, from Paris's fifth arrondissement to the fields of Tanzania, Julia Lovell, Professor of Modern China at Birkbeck College, University of London, delivers a re-evaluation of Maoism as a significant global force in her sweeping Maoism: A Global History (The Bodley Head, Knopf). This landmark history arrives at a time when disagreements and conflicts between China and the West are on the rise, and the need to understand the political legacy of Maoism is urgent and growing.
Jane Kamensky said: "Maoism is a revelation, and will be to every reader, I think. I suspect that there is nobody beyond Lovell herself who has wrestled with so many theatres of Maoist thought, and in the fresh way that she does. Every juror in the room, including our China specialist, had an experience of discovery in the book that was enormously compelling."
Robert Gerwarth said: "Very often, books that set out to undertake global history writing end up focussing on certain places, but this book really takes us around the globe. Maoism is a history of ideas, deeply grounded in research, with well-developed characters – and a major contribution to various different literatures: the historiography of the Cold War, the literature that exists on decolonisation, and the history of Marxism in its various formations."
Charlotte Gray said: "Maoism is such an important subject today, as we watch China assume a larger and larger role, and understanding exactly where today's China comes from is really crucial."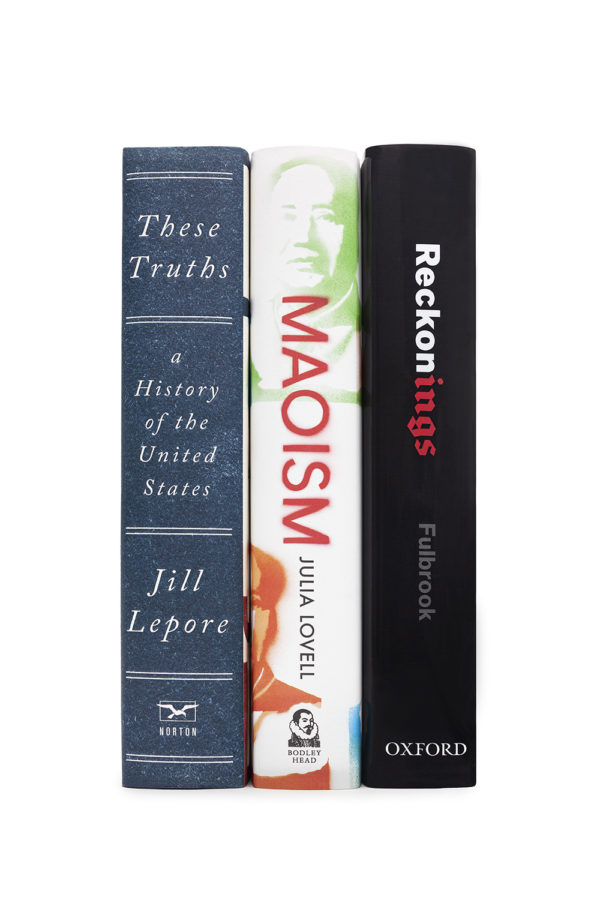 The Cundill History Prize is open to books from anywhere in the world, regardless of the author's nationality or place of residence, as well as works translated into English, and nearly 400 titles are submitted by international trade and university publishers every year.
Following last month's shortlist announcement at the Canadian Consulate in New York, and today's finalists announcement at Massey College in Toronto, the Cundill History Prize roadshow will arrive in Montreal next month.
On November 14, the winner will be revealed at the Cundill History Prize Gala at the Montreal Museum of Fine Arts. Alongside this, McGill University are programming a wide-ranging series of events, including a panel featuring all three finalists, and the annual Cundill History Prize Lecture, delivered by Maya Jasanoff, winner of the 2018 Cundill History Prize for The Dawn Watch: Joseph Conrad in a Global World.
The 2019 winner will join an exceptional alumni list of world-class historians: Maya Jasanoff (2018), Daniel Beer (2017), Thomas W. Laqueur (2016), Susan Pedersen (2015), Gary Bass (2014),
Anne Applebaum (2013), Stephen Platt (2012), Sergio Luzzatto (2011), Diarmaid MacCulloch (2010), Lisa Jardine (2009), Stuart B. Schwartz (2008).
For further information, and to join the conversation please visit: www.cundillprize.com | twitter.com/CundillPrize | facebook.com/cundillprizemcgill | instagram.com/cundill.prize
Notes to Editors

About the 2019 Finalists
Mary Fulbrook is Professor of German History at UCL. She is the author of many books on German and European history, including the Fraenkel Prize-winning A Small Town near Auschwitz: Ordinary Nazis and the Holocaust. A Fellow of the British Academy, she is former Chair of the German History Society and was founding Joint Editor of its journal, German History. Among other commitments, she serves on the Academic Advisory Board of the Foundation for the former Concentration Camps at Buchenwald and Mittelbau-Dora. She is currently directing an AHRC-funded research project on 'Compromised Identities? Reflections on Perpetration and Complicity under Nazism'.
Jill Lepore is the David Woods Kemper '41 Professor of American History at Harvard University. She is also a staff writer at The New Yorker. A prize-winning professor, she teaches classes in evidence, historical methods, humanistic inquiry, and American history. Much of her scholarship explores absences and asymmetries in the historical record, with a particular emphasis on the history and technology of evidence. As a wide-ranging and prolific essayist, Lepore writes about American history, law, literature, and politics. She is the author of many award-winning books. Her latest book is This America: The Case for the Nation (2019).
Julia Lovell is Professor of Modern China at Birkbeck College, University of London. Her two most recent books are The Great Wall and The Opium War (which won the 2012 Jan Michalski Prize). Her many translations of modern Chinese fiction into English include Lu Xun's The Real Story of Ah Q, and other Tales of China (2009). She is currently completing a new translation of Journey to the West by Wu Cheng'en. She writes about China for several newspapers, including the Guardian, Financial Times, New York Times and Wall Street Journal.
About the 2019 Shortlist

Sunil Amrith Unruly Waters: How Rains, Rivers, Coasts, and Seas Have Shaped Asia's History Basic Books (US), Allen Lane (UK)
Helen Berry Orphans of Empire: The Fate of London's Foundlings Oxford University Press (UK)
David Blight Frederick Douglass: Prophet of Freedom Simon & Schuster (US)
Mary Fulbrook Reckonings: Legacies of Nazi Persecution and the Quest for Justice Oxford University Press (UK, US)
Toby Green A Fistful of Shells: West Africa from the Rise of the Slave Trade to the Age of Revolution The University of Chicago Press (US), Allen Lane (UK)
Victoria Johnson American Eden: David Hosack, Botany, and Medicine in the Garden of the Early Republic Liveright Publishing (US)
Jill Lepore These Truths: A History of the United States W. W. Norton & Company (US)
Julia Lovell Maoism: A Global History The Bodley Head (UK), Knopf (US)
About the Cundill History Prize

The Cundill History Prize recognizes and rewards the best history writing in English. A prize of US$75,000 is awarded annually to the book that embodies historical scholarship, originality, literary quality and broad appeal. The two runners-up each receive US$10,000. The Cundill History Prize is administered by McGill University in Montreal and awarded by five distinguished jurors. It honours the abiding passion for history of its founder, F. Peter Cundill, by encouraging informed public debate through the wider dissemination of history writing to new audiences around the world.
www.cundillprize.com
About McGill University

Founded in Montreal, Quebec, in 1821, McGill is a leading Canadian post-secondary institution. It has two campuses, 11 faculties, 13 professional schools, 300 programs of study and over 40,000 students, including more than 10,400 graduate students. McGill attracts students from over 150 countries around the world, its 12,500 international students making up 30% per cent of the student body. Over half of McGill students claim a first language other than English, including approximately 20% of our students who say French is their mother tongue. www.mcgill.ca

About F. Peter Cundill
F. Peter Cundill (1938-2011), a distinguished alumnus of McGill University, was a philanthropist, sportsman, diarist, and renowned global investor. A voracious reader and inveterate traveller, F. Peter Cundill had an abiding passion for history: he believed that it was possible to comprehend the present and arrive at a measured perspective about the future only by first understanding the past. This led him to found the Cundill History Prize. The Peter Cundill Foundation continues to support charities, research projects, and educational and enterprise gifts to young people.
www.thepetercundillfoundation....

About HistoryExtra
A media partner of the prize, HistoryExtra is the online home of three leading popular history magazines: BBC History Magazine, BBC History Revealed, and BBC World Histories. It is the place to go for accessible and authoritative historical content across all topics and periods. www.historyextra.com