August 2nd 2023 in News
The 2023 Cundill History Prize Longlist
The jurors have chosen 14 exceptional titles to be longlisted for the 2023 Cundill History Prize.
The shortlist will be announced in New York City on Wednesday, September 27, 2023.
For the latest news and updates, please follow us on Twitter, Instagram and Facebook.
For all media enquiries, please contact Kealey Rigden (kealeyr@fmcm.co.uk) or Ned Green (nedg@fmcm.co.uk) at FMcM Associates.
The 2023 Cundill History Prize Longlist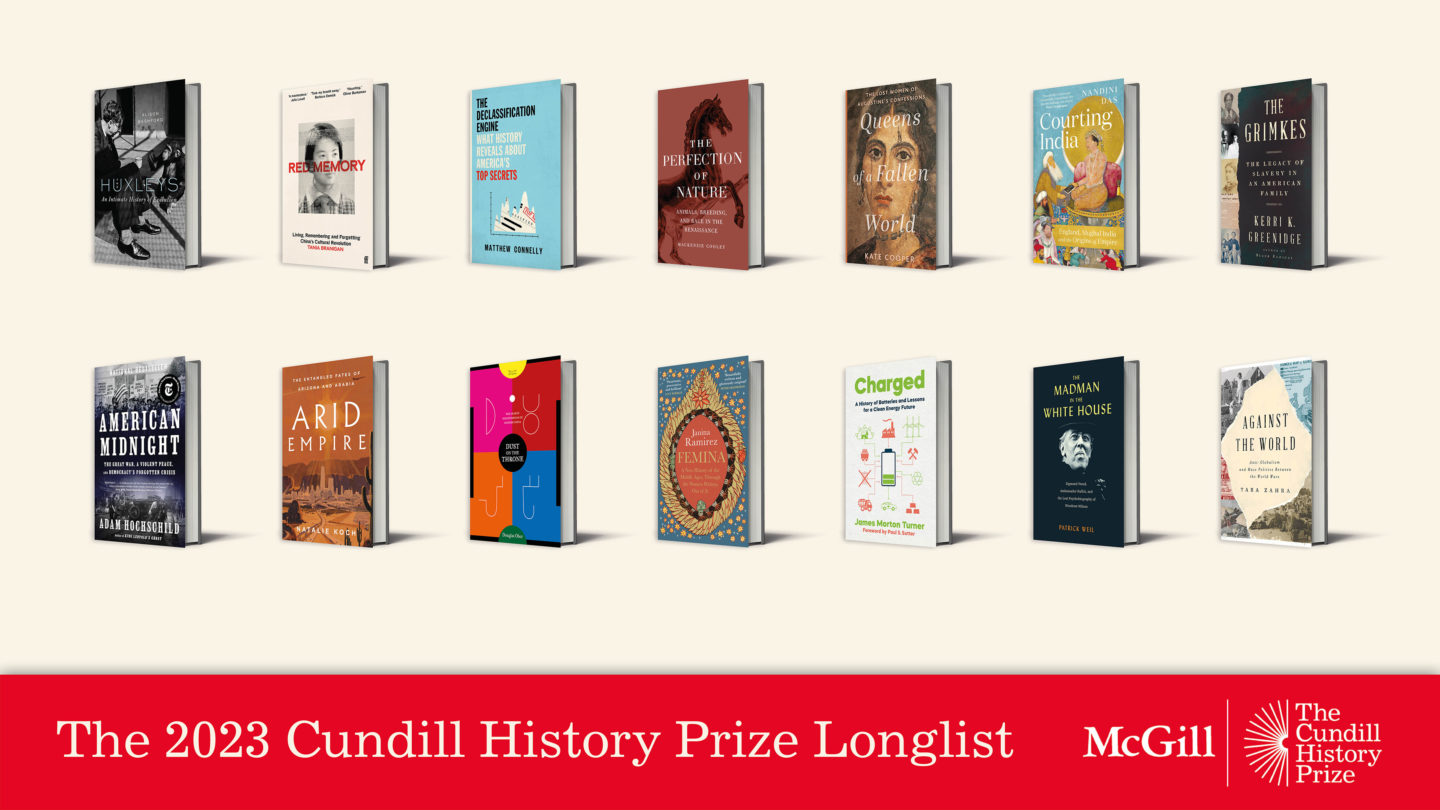 The Huxleys: An Intimate History of Evolution
Alison Bashford
(University of Chicago Press)
Red Memory: Living, Remembering and Forgetting China's Cultural Revolution
Tania Branigan
(Faber & Faber)
The Declassification Engine: What History Reveals about America's Top Secrets
Matthew Connelly
(Pantheon Books)
The Perfection of Nature: Animals, Breeding, and Race in the Renaissance
Mackenzie Cooley
(University of Chicago Press)
Queens of a Fallen World: The Lost Women of Augustine's Confessions
Kate Cooper
(Basic Books)
Courting India: England, Mughal India and the Origins of the Empire
Nandini Das
(Bloomsbury Publishing)
The Grimkes: The Legacy of Slavery in an American Family
Kerri Greenidge
(Liveright)
American Midnight: The Great War, a Violent Peace, and Democracy's Forgotten Crisis
Adam Hochschild
(Mariner Books)
Arid Empire: The Entangled Fates of Arizona and Arabia
Natalie Koch
(Verso Books)
Dust on the Throne: The Search for Buddhism in Modern India
Douglas Ober
(Navayana)
Femina: A New History of the Middle Ages, Through the Women Written Out of It
Janina Ramirez
(WH Allen [UK] / Harlequin Trade Publishing / Hanover Square Press [Canada])
Charged: A History of Batteries and Lessons for a Clean Energy Future
James Morton Turner
(University of Washington Press)
The Madman in the White House: Sigmund Freud, Ambassador Bullitt, and the Lost Psychobiography of Woodrow Wilson
Patrick Weil
(Harvard University Press)
Against the World: Anti-Globalism and Mass Politics Between the World Wars
Tara Zahra
(W. W. Norton & Company)