September 22nd 2022 in News
Books that 'traverse the globe' make 2022 Cundill History Prize shortlist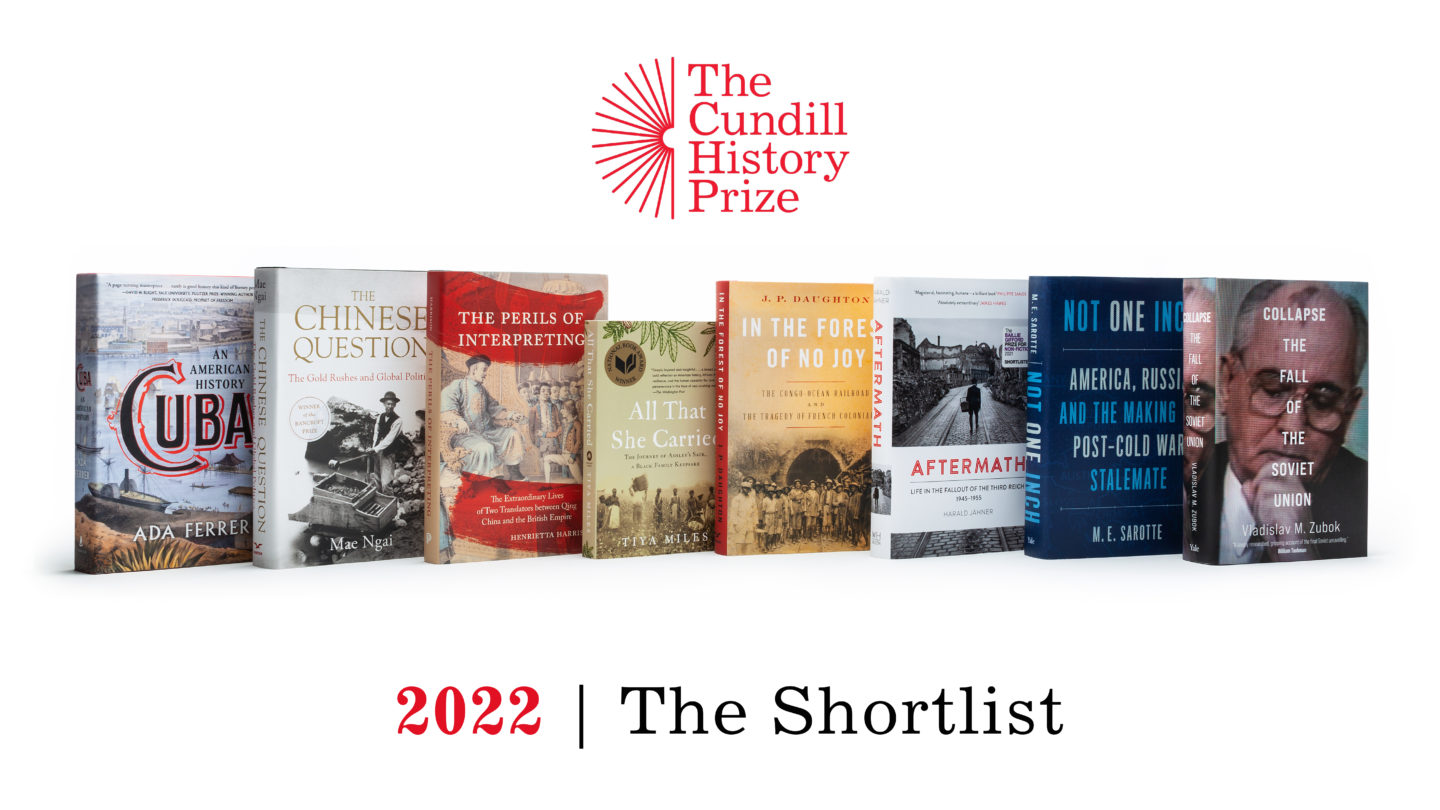 The jurors for the 2022 Cundill History Prize are shining a light on stories that span the continents in an eight-book shortlist that shows the range and insight of current history writing. The list was announced by J.R. McNeill, Chair of the Jury, together with jurors Misha Glenny, Martha S. Jones, Yasmin Khan and Kenda Mutongi in a virtual event, broadcast in partnership with Literary Hub today.
Two presses – Yale University Press and W. W. Norton & Company – feature with two titles each, alongside books from Ebury, Princeton University Press, Random House and Scribner.
Working with a network of partners in Canada, the US and the UK, the world's leading history prize, administered by McGill University, is rolling out a digital event for the shortlist announcement. For today's event, the jurors were joined by 2021 winner Marjoleine Kars.
J.R. McNeill said: 'While it was a painful process to eliminate some magnificent books from the Cundill History Prize competition, it was a pleasure to read so many excellent historians. The eight on the shortlist span a wide range of the historian's craft, but all share certain virtues: they demonstrate imagination in research, clarity in writing, and they invite readers to see their topics in novel ways. The variety of approaches, methods, perspectives, and subjects on offer in these books confirms my sense that history nowadays is in very good hands.'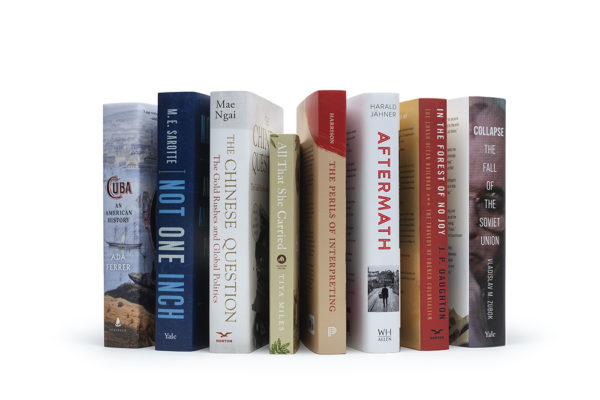 Ada Ferrer discusses the evolution of the modern nation (Cuba: An American History); Vladislav Zubok sheds new light on Russian democratic populism, the Baltic struggle for independence, the crisis of Soviet finances - and the fragility of authoritarian state power (Collapse); Tiya Miles traces the life of a single object handed down through three generations of Black women to craft an extraordinary testament to people who are left out of the archives (All That She Carried); and Henrietta Harrison offers an empathic argument for cross-cultural understanding in a connected world, via an impressive new history of China's relations with the West (The Perils of Interpreting: The Extraordinary Lives of Two Translators between Qing China and the British Empire).

M.E. Sarotte reveals how tensions between America, NATO, and Russia transformed geopolitics in the era between the Cold War and the present day, expanding NATO but also undermining what could have become a lasting partnership (Not One Inch); Mae Ngai chronicles how a feverish alchemy of race and money brought Chinese to the West and reshaped the nineteenth-century world (The Chinese Question: The Gold Rushes and Global Politics); Harald Jähner offers a nuanced panorama of a nation undergoing monumental change, evoking an immersive portrait of a society at once corrupted, demoralised and freed (Aftermath: Life in the Fallout of the Third Reich); and J.P. Daughton tells the epic story of the Congo-Océan railroad, revealing the human costs and contradictions of modern empire (In the Forest of No Joy).
Juror Misha Glenny said: 'Reading this raft of superb history books was an inspiration. Every entry demonstrated a firm grip on the historian's craft combined with great flair in the writing and construction of the narrative. The toughest part of the judging process came when we had to exclude titles. Every submission could have happily found a place on the short list. There were no bad books but a great deal of strong competition. What struck me most, though, in considering these works was how important history remains for understanding our present and how it can offer a guide to action in overcome the unprecedented challenges we now face.'
Juror Martha S. Jones said: ' These eight works embody bravery – in their choice of subject matter, archival ambition and interpretive boldness. Today, historians need nothing short of this brand of courage because our work will be read and it will matter for how this great and troubled world will turn. These books emboldened me to keep asking the hard questions and then working toward their answers.'
Juror Yasmin Khan said: ' This is a shortlist to celebrate and to read. All the books on the list demonstrate the value that historical perspectives bring to understanding ourselves and others, and the skills of perception, deep research and judicious analysis involved in the historian's craft. These are books which complicate and challenge received wisdom and standard narratives, and help us look at the world again with fresh eyes.'
Juror Kenda Mutongi said: 'It was an honor to read fantastic history books, but extremely difficult to pick only eight. The authors of these shortlisted books ask novel questions of their topics and demonstrate rigorous research. Their story-telling dazzles as well. These books are a testimony to the enduring value of history as a vehicle for both learning and pleasure.'
Awarding US$75,000 to the winner and US$10,000 to the two runners-up, the Cundill History Prize is the largest purse for a book of non-fiction in English. It is open to books from anywhere in the world, regardless of the author's nationality, as well as works translated into English.
Today's event will be made available on cundillprize.com as well as lithub.com. Individual and group book photography as well as author headshots for shortlisted titles are available for download here.

The 2022 finalists will be announced 20th October, and the winner as part of the Cundill History Prize Festival on 1st December. For the latest news on these and the wider events programme, sign up to the newsletter and follow the Cundill History Prize on Twitter, Facebook and Instagram.
The 2022 winner will join an exceptional alumni list of world-class historians: Marjoleine Kars (2021), Camilla Townsend (2020), Julia Lovell (2019), Maya Jasanoff (2018), Daniel Beer (2017), Thomas W. Laqueur (2016), Susan Pedersen (2015), Gary Bass (2014), Anne Applebaum (2013), Stephen Platt (2012), Sergio Luzzatto (2011), Diarmaid MacCulloch (2010), Lisa Jardine (2009), Stuart B. Schwartz (2008).

For all media enquiries, please contact Chloe Rose (chloer@fmcm.co.uk) and Kealey Rigden (kealeyr@fmcm.co.uk).
---
The 2022 Cundill History Prize Shortlist

J.P. Daughton
In The Forest of No Joy
W. W. Norton & Company
Ada Ferrer
Cuba
Scribner
Henrietta Harrison
The Perils of Interpreting
Princeton University Press
Harald Jähner
Translated by Shaun Whiteside
Aftermath
Ebury, PRH
Tiya Miles
All That She Carried
Random House
Mae Ngai
The Chinese Question
W. W. Norton & Company
M.E. Sarotte
Not One Inch
Yale University Press
Vladislav M. Zubok
Collapse
Yale University Press