October 16th 2020 in Cundill history hub
Reading Towards History: The Books Behind The Authors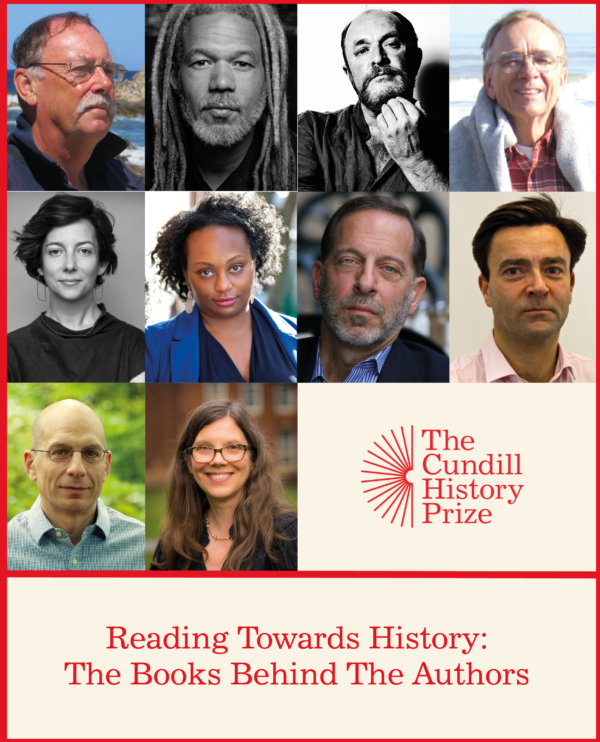 The ten authors on the 2020 Cundill History Prize shortlist discuss books that have touched them, in an article compiled by prize coordinator Mackenzie Bleho.
While our jurors and audiences pore over the 2020 shortlisted titles in the leadup to next week's finalists announcement, the Cundill History Prize team caught up with the authors on their own cherished reads. Curious about our shortlistees' forays outside of their specialism, we put to our Top 10 this question: What book outside of your primary area of interest had a strong impact on you? In their answers, we uncovered a fascinating reading list of diverse influences ranging from Victorian realist novels to YA historical fiction, from war memoirs to major histories.
As you might expect, many couldn't limit themselves to a single title. Characteristically, Richard Eaton, author of India in the Persianate Age, declared: "Impossible to name only one." He proceeded to cite Jonathan Spence's God's Chinese Son as the book which "stirred [his] passion for both the power of biography and the study of millennialism," while electing as a trio that popularized early modern world history Russell Shorto's Island at the Center of the World, Giles Milton's Nathaniel's Nutmeg and Timothy Brook's Vermeer's Hat.
Similarly, The Anarchy author William Dalrymple pointed to formative encounters with another historian. Dalrymple let Sir Steven Runciman, "the historian who taught [him] how to write", speak for himself, quoting from the preface to Runciman's History of the Crusades: "[T]he modern historian too often takes refuge in narrowly specialised dissertations, small fortresses that are easy to defend from attack". Unsurprising, then, the kinship that stands out when Dalrymple describes Runciman's authorship of "wide-ranging books about big subjects… in beautifully-honed prose, for a general audience."
Paul Lay, for his part, proffered Peter Brown's The World of Late Antiquity—or, "[i]ndeed, anything by Peter Brown, the greatest living practitioner of the historian's art". Lay looked to Brown for a reminder that "an understanding of language and religion are essential if one is to escape one's own boundaries of time and space." Evidently, this truth made its way into the conception of Lay's own take on a temporally distant religious world: Cromwell's England in Providence Lost.
Other shortlistees named a real mix of genres having made their mark. Just so, The Hundred Years' War on Palestine author Rashid Khalidi combined historians of the Annales school (Bloch, Braudel, and others) with beloved novelists such as Joseph Conrad, Amitav Ghosh, and Abdel Rahman Munif. Equally varied, Black Radical biographer Kerri Greenidge's list embraces biography, feminist history and fiction—with David Levering Lewis' two-volume biography of W.E.B. Du Bois, Paula Giddings' When and Where I Enter, and "all of William Faulkner and Toni Morrison" crowning each category. On the taste that orients her preferences, Greenidge admitted her love for "stories of people and communities and the traumas that produce them". She also looked back fondly on her childhood and adolescent readings of Dickens.
Roderick Beaton, shortlisted for his Greece, walked down memory lane as well while answering our question. Having first read Rosemary Sutcliff's historical novel for young adults The Eagle of the Ninth when he was 10, Beaton today praises the book's vivid portrayal of "what it must have been like to venture into the unknown in [his] native Scotland in the days of Roman Britain" and calls it "a magical window into the past."
Still in the realm of the imaginary, Camilla Townsend, whose Fifth Sun is shortlisted, thought that George Eliot's Middlemarch might be the book that influenced her most. Townsend's concern with diversifying points of view on events comes through in her assessment of Eliot's famous opus: "In the novel, the multiplicity of perspectives is not fracturing, but rather adds up to a deeper truth about a community and its people."
Meanwhile, the three remaining authors on our list—Vincent Brown (Tacky's Revolt), Kim Ghattas (Black Wave) and Claudio Saunt (Unworthy Republic)—offered choices firmly tied to a salient moment during which they were reading. Ghattas found in Ian Buruma's Year Zero, read while "the Syrian civilian revolution was sliding into a brutal war and the landscape in the Middle East looked atrocious overall", a hopeful reminder that humanity had come through World War II and prevailed. Also reading in times of war (this time, near the beginning of the Iraq War), Brown encountered Stan Goff's Full Spectrum Disorder: The Military in the New American Century, which "redirected [his] interests from the field-specific study of slavery toward the broader arena of Atlantic conflict at various scales". Lastly, Claudio Saunt allowed us a peek at what he is currently reading to "help spark new ideas": The Contamination of the Earth: a History of Pollutions in the Industrial Age, by François Jarrige and Thomas Le Roux.
As well as being themselves celebrated, shortlisted authors of outstanding histories, these ten writers are inveterate readers whose explorations outside of their primary areas of interest have formed their own practices. It is always fascinating to see this level of dialogue across specialisms, fields, and genres come to the fore. As our submissions guidelines explain, a Cundill book must offer a compelling narrative which—written in lively, engaging prose—can be read with pleasure and with profit by non-specialist historians and the general public alike. Who knows? Perhaps the writing of just this kind of history benefits from the kind of broad interests our 2020 shortlistees boast.
Intrigued by their recommendations? The full list is summarised below!
Influential Books – Curated by the Authors of the 2020 Cundill History Prize Shortlist
Roderick Beaton
Rosemary Sutcliff, The Eagle of the Ninth
Vincent Brown
Stan Goff, Full Spectrum Disorder: The Military in the New American Century
William Dalrymple
Sir Steven Runciman, A History of the Crusades
Richard M. Eaton
Timothy Brook, Vermeer's Hat
Russell Shorto, Island at the Center of the World
Jonathan Spence, God's Chinese Son Giles Milton, Nathaniel's Nutmeg
Kim Ghattas
Ian Buruma, Year Zero
Kerri K. Greenidge
William Faulkner
Paula Giddings, When and Where I Enter
David Levering Lewis, W. E. B. Du Bois: Biography of a Race, 1868-1919 and W. E. B. Du Bois, 1919-1963: The Fight for Equality and the American Century
Toni Morrison
Rashid Khalidi
Marc Bloch
Fernand Braudel
Joseph Conrad
Amitav Ghosh
Abdel Rahman Munif
Paul Lay
Peter Brown, The World of Late Antiquity
Claudio Saunt
François Jarrige and Thomas Le Roux, The Contamination of the Earth: A History of Pollutions in the Industrial Age
Camilla Townsend
George Eliot, Middlemarch